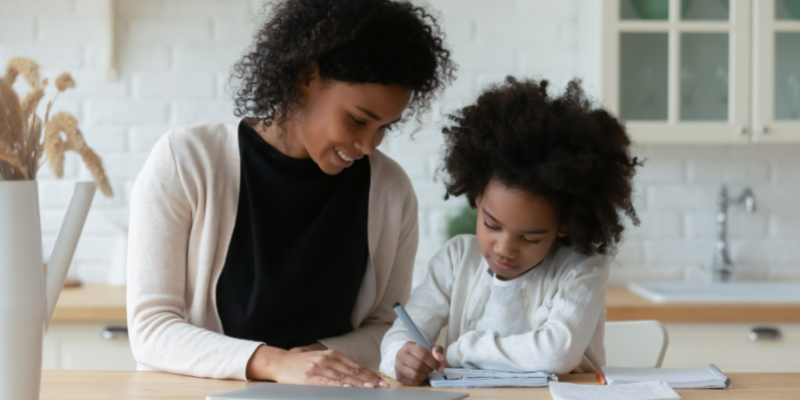 Home-schooling: the Challenge for Working Parents
Home-schooling: the Challenge for Working Parents
Last week the University of Oxford reported that levels of stress, depression and anxiety among parents and carers have increased with the pressures of lockdown. It's no wonder. This is particularly so when schools are closed and suddenly parents are grappling with the challenge of home-schooling and worrying about holding down their job. For many, their job can only be performed in the workplace and so having children at home leads to child care issues. For other parents, government advice is to work from home wherever possible. These mums and dads are trying to juggle work calls and deliverables from home and dealing with their children's education and general wellbeing at the same time. Throw in the housework, laundry, tantrums, creaking broadband alongside trying to explain the function of a fronted adverbial to an 8-year-old and it's unsurprising a perfect storm has swept in. For many parents a lot of the time it feels just too much.
So what options are available that could help alleviate the current challenges for working parents?
Furlough
The government has recently clarified that the furlough scheme is available for those who are 'adversely affected by coronavirus'. The time off work does not need to relate to a reduction in work. Therefore, employees who need to take time off for childcare reasons resulting from coronavirus will have this option. Employees are eligible if they were employed on 30 October 2020 and currently the scheme has been extended until 30 April 2021. However, the employer and employee will need to agree to a furlough arrangement with the details documented in writing. This may pose an operational issue for the employer if a number of their employees are working parents and wish to take time off during a busy period for the business. The only drawback with furlough however is that you have no right to be furloughed. You can request it but if your employer does not want to put you on furlough this won't be an option.
Flexible Furlough
An alternative which may strike a balance between the demands of the business and challenges for the working parent may be flexible furlough leave. This option enables the employee to work part-time and to be paid under the furlough scheme for the hours they are unable to perform their duties at work. This gives the employer someone still doing the bulk of their job and keeping the wheels going round but breathing room for their staff. It is also good for those skeptical employers who are thinking people don't really work from home: they are only being paid for the hours they work and this is being subsidised by the Government.
Flexible working
To help balance the needs of the working parent and home-schooling, employers and employees are encouraged to consider flexible working arrangements to help alleviate the pressures. This could involve reducing the number of working hours or changing them to mutually suit the needs of the business and parent. This is a right available to many, subject to following the correct procedure. Again, you do need your employer's agreement. There is plenty of information available online on your right to make a request and how to go about it.
Annual leave
Annual leave is another option which may provide a short-term solution to the pressure and is paid at full pay. Employers can require an employee to take time off on annual leave, subject to certain notice requirements. However, employers should exercise caution in using this option for homeschooling parents as it is likely to be regarded as discriminatory. Also, when the purpose of holiday is to relax and recuperate, this is unlikely to be achieved when looking after the needs of children and home-schooling. Some parents on furlough may opt to take leave because it tops up any shortfall in furlough pay (80%) and just to get a bit of headspace.
Parental Leave
Parental leave is a further option for employees subject to certain requirements, including length of service and notice. Eligible employees can take time off in blocks of one week at a time. A total of 18 weeks per child can be taken at any time up until their 18th birthday. This leave is unpaid so not ideal in the current climate.
Emergency Leave
In the case of a short-term emergency, an employee has the statutory right to take time off for a reasonable amount of time to take necessary action to deal with a particular situation affecting their dependents. So when the Prime Minister announced lockdown 3.0 at 8pm on 4 January 2021, confirming that the schools would be closed the next morning, this option would have been available for parents for the next day or days until a longer term solution could be put in place. This leave is also unpaid.
Support bubbles
A further option for working parents struggling to keep all of their plates spinning, is to consider forming a support bubble with another person or family to provide childcare. This is allowed under the current guidelines.
Special educational needs
The challenges of home-schooling are compounded when a child has special educational needs. Whilst there may be the option for a child on an Education, Health and Care (EHC) plan to attend school during lockdown, this may not always be the solution for the family who need to self-isolate. Employers are advised to consult with employees who are in this position and act reasonably to consider their needs. Although it is beyond the scope of this note, employees are advised that they may have additional employment law protections under the Equality Act if their child has special needs.
Mental Health
It is unsurprising that the University of Oxford survey found that parents and carers reported problems including difficulty relaxing, being easily upset, feeling fearful and more irritable during lockdown. For some this will impact on their physical or mental health necessitating sickness absence from work. Employers and employees are encouraged to keep lines of communication open and hopefully employers will have effective mental health and wellbeing policies and procedures in place to support their employees.
Summary
These are unprecedented times which call for unprecedented measures and understanding between employers and employees. Employers are encouraged to discuss concerns with their employees with a view to reaching a workable solution for all. Otherwise, a refusal to permit time off work or flexibility in working arrangements may lead to a number of legal claims to include breach of contract, unfair / constructive dismissal or discrimination claims.
As always, if you remain concerned about your employment options and rights during the current lockdown you are advised to seek legal advice at an early stage. Talk to us at didlaw.
This blog is by Caroline Oliver, Senior Solicitor, didlaw.