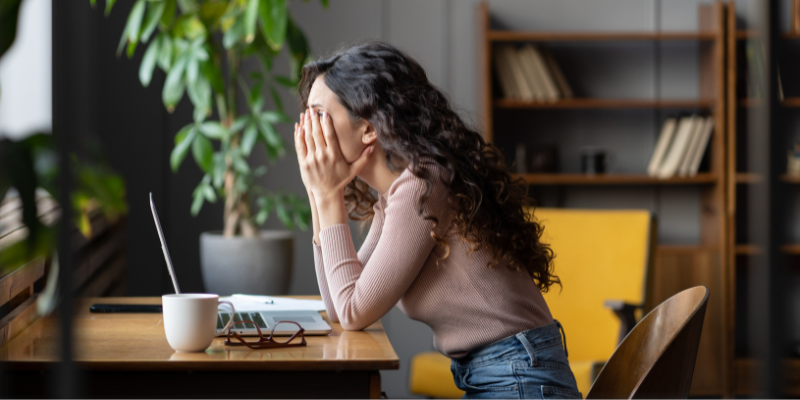 post lockdown return to the workplace – part 3: mental health
post lockdown return to the workplace – part 3: mental health
The third in the series of our return to the workplace blogs, this week we shine an important spotlight on mental health and well-being.
Of course, even before the COVID-19 pandemic mental health was a key concern for employers. One in four people are impacted by mental ill health at some point in their lives, accounting for a major cause of long-term absence from work. On the return to work, mental health is important to keep in mind as your workforce may struggle during the transition period in returning to the workplace.
The pandemic and lockdown have exacerbated concerns about mental health and wellbeing. Earlier this month the Office for National Statistics provided data following an analysis of the proportion of the British adult population experiencing some form of depression. In early 2021 they found that around 1 in 5 adults experienced some form of depression, representing a doubling of the figure observed before the pandemic.
The pandemic has had an impact on all of our lives, and everyone has experienced it differently. Many employees would not have stepped foot in the workplace for well over a year and others may have been isolating or confined to limited safe environments. Many would have been impacted with illness, bereavement, job insecurity, financial hardship and family concerns. The return to work (from furlough or homeworking) will represent a huge change in our daily lives. Staff may display a range of emotions from excitement and relief to fears and anxieties relating to the change, the new environment, COVID fears or job security. Employers must be alive to the impact of a sudden return to the workplace on employee wellbeing, confidence and mental health after lockdown.
Employers have an over-arching duty of care to protect the health and safety of their workforce, and this extends to mental health just as much as physical health. Employers are required to assess and monitor the risk of stress and other conditions arising at work and to take reasonable steps to address this. Employers may already be aware that some of their employees have a pre-existing condition, others may have developed mental ill health during the pandemic or start to experience symptoms as they return to work.
So what steps should employers be taking in the weeks ahead to ensure they have an effective framework in place to support the mental health of staff as the workplace doors are reopened?
Be Proactive
Employers should not just rely on being informed that an employee is struggling with their mental health. Indeed the charity Mind has found that a third of staff disagreed with the statement "I would feel able to talk openly with my line manager if I was feeling stressed." Employers should open a dialogue with staff as they are invited back to work. But more than this, an employer should be proactive and look out for signs that an employee is struggling. These may include unexplained absenteeism, tearfulness at work, a dip in performance, working excessive hours, a change in behaviour or other signs of emotion or anger. Whilst these signs may not necessarily signal a mental health consideration, this should prompt a wellbeing conversation with a line manager or colleague.
Training
Employers should ensure that training is up to date for HR professionals and line managers, both to spot the signs and in how to offer or signpost for support. They should be briefed on current considerations relating to the pandemic and the associated concerns with the release from lockdown. Mental Health First Aiders should be appointed, trained or briefed.
A Phased Return
Consider a gradual reintroduction back to the workplace with support, training and other engagement to ensure staff feel connected, engaged and supported. Review options to offer a gradual, phased and supported return to the workplace. Consider and engage flexible working policies. For some employees, adjust performance objectives and workload, where appropriate. Consultation with affected employees is key to support them through this transition.
Support and Information
Review the support available for employees such as counselling, any employee assistance programme provided, online resources and engaging occupational health where appropriate.
Provide information to employees and remind them of the support available. Address safety concerns about returning to work. Communicate and inform in relation to the return-to-work plans and Covid risk assessment, to address those with additional concerns.
Promote awareness of the issues among staff in general to foster a culture where people feel comfortable and empowered to discuss mental health. Consider offering or promoting activities to support wellbeing in general.
Review the Mental health policy
This is also the time to roll out or review your Mental Health Policy. Such a policy should encompass the organisational commitments, legal obligations, staff training, responsible personnel, support, protection and resources, risk assessment and procedures to identify and minimise stress at work as well as policies for dealing with stress related absence.
Disabled Employees
Employers should be mindful that some employees with long term mental health conditions may have additional protection under the Equality Act as disabled employees. The duty here for employers is to ensure that the employee does not become the victim of any discrimination or harassment. An occupational health assessment will be vital to ensure that all reasonable adjustments are considered and implemented to support the employee.
Further advice and resources for supporting mental health in the workplace can be found via the Mind website here.
This blog is by Caroline Oliver, Senior Solicitor at Didlaw