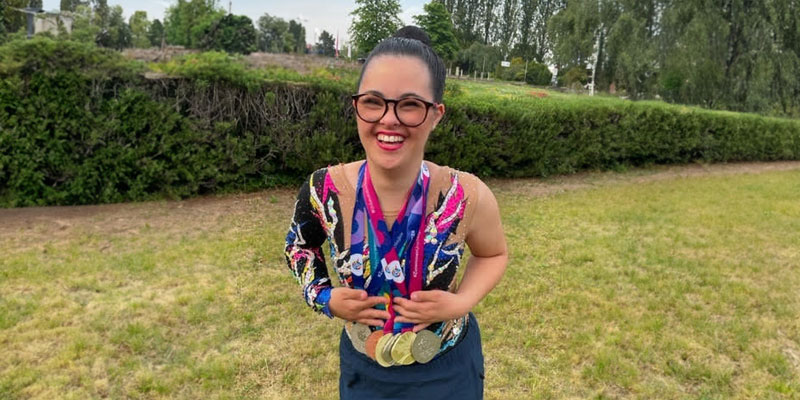 Sofia gets gold 
This is a blog about my beautiful niece Sofia, who is now an Olympian champion. Why am I writing about her – well Sofia has Downs syndrome and this week competed in the Special Olympics World Games in Berlin representing Norway in Rhythmic Gymnastics. She won two golds, three silver and one bronze medal in her age and level category.
As a disability discrimination lawyer, my role mainly involves trying to resolve my clients' employment disputes. I address what employers have done wrong – how they have failed to be inclusive, treated disabled employees less favourably and/or failed to make reasonable adjustments to level the playing field; but instead placed their disabled employees at substantial disadvantages when carrying out their normal duties and responsibilities. It's sometimes hard not to think that we live in an ableist society, given the barriers that disabled employees face in the workplace and in their normal day to day lives.
So, it was amazing to attend the Special Olympics where children and adults with intellectual disabilities are celebrated for their sterling efforts and achievements in sports and in a forum that promotes diversity, equality and inclusivity. I can truly say it was one of the most joyous events I have ever attended.
When Sofia was born, my sister did not know she was having a child with Downs syndrome. She hadn't gone through any prenatal screening testing. I always recall the day Sofia was born; my sister called me to say that I had a new niece. Then some six hours later she rang again in floods of tears telling me that her baby girl had been diagnosed with Downs syndrome. Neither she, nor I knew, what it involved to have a disabled child and we were scared of the unknown. However, having Sofia has been a journey of happiness and enlightenment. She is a vivacious, cheeky, bi-lingual teenager with a natural talent to perform and bring others joy. She has grown up in a country where she has been truly supported by the local government and health agencies. She has just graduated from school and will be attending a sixth form college. She has a second family, who have provided respite care for my sister and her family, since Sofia was born. The mum and daughter of that family are now Sofia's godmothers and love her inside out.
Sofia started gymnastics when she was three. It is a testament to all her hard work that she achieved so much this week. For these games, she learned five different routines – hoop (group and individual), ball, ribbon and rope and shone in every one of them. Watching her perform was one of the best experiences of my life. But seeing all the other gymnasts and athletes filled my heart too. There were women and girls from all corners of the world, from El Salvador to the Faroe Islands, and they all glowed. Sofia getting medals was the icing on the cake; watching her face light up when she stood on the podium made us all cry.
Berlin did an amazing job hosting these games. The opening ceremony, hosted by the President and Chancellor of Germany, had athletes from 170 countries. The athletes with their coaches and trainers walked out proudly behind their country's banners at the Olympic Stadium. The crowds, which were full of family and friends, roared to see their loved ones get the recognition they deserved. There was music, speeches and fireworks and the Olympic torch lit the Games' beacon. These athletes, like all able and para-athletes, have worked hard and relentlessly to qualify and attend these games. The city embraced them, providing free transport on the trains and buses, hundreds of volunteers and venues ideal for the athletes' disabilities.
It's a real shame that there has been minimal television and press coverage of these games in the UK. I have had to hunt for it on the internet and on BTSports. Come on the BBC, surely you should have put on some highlights at least. These athletes should be celebrated the same way other athletes are. If you are able to watch some of the sports, I thoroughly recommend it. Men's gymnastics is on today and Sofia's childhood friend is competing, so I will be hunting for coverage.
So, here's to Sofia, to celebrating and embracing diversity, for giving these athletes the opportunity to compete and win, to all the coaches and trainers who work tirelessly to help them achieve their success and to the families and friends who nurture these incredible children and adults. I am glowing with pride and my mother, whose heavenly birthday it is today, would be delighted to know that her granddaughter is an Olympian. Bring on the Special Olympics Sydney 2027.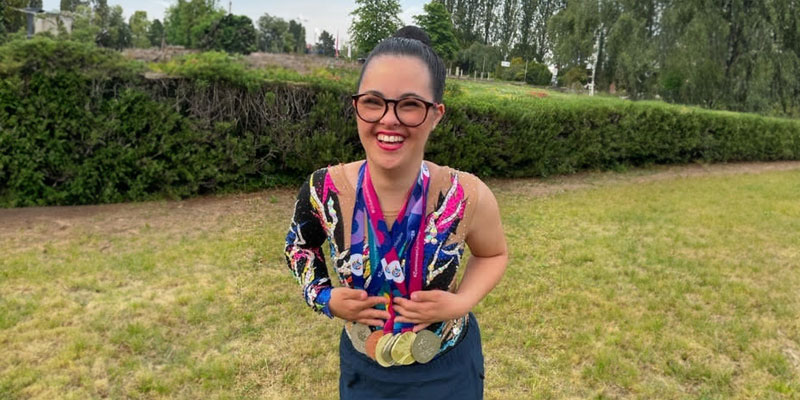 This blog is written by Anita Vadgama, Partner at didlaw