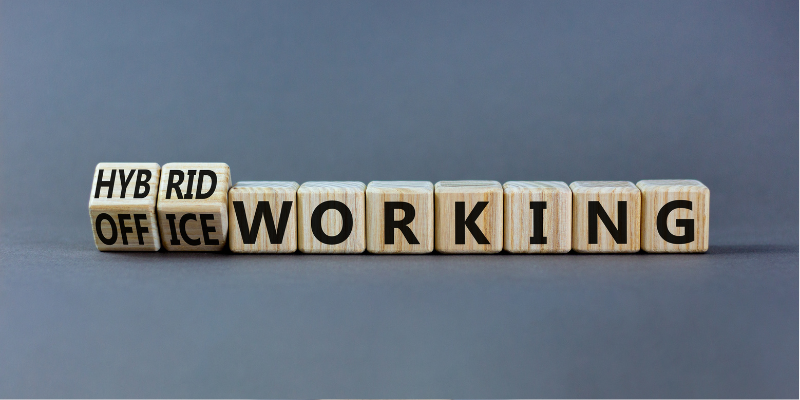 the post-pandemic hybrid workplace
the post-pandemic hybrid workplace
It's been over a year since the Prime Minister announced a national lockdown, sending millions of workers away from the workplace to set up camp at home with their laptops. Homeworking will suit some industries more than others. It really depends on the type of work being performed and technology being in place to facilitate this.
Working from home full time will be an advantage for some workers promoting an improved work-life balance. For others being away from colleagues has been a challenging experience and may be detrimental to their wellbeing. A recent survey by the World Economic Forum found that around one fifth of workers want to work at home full time whereas a similar number wish to work only in the office. The results demonstrate that the majority would appreciate a blended approach to post-pandemic working life.
I'm lucky. Even before the pandemic hit my employer promoted flexible working enabling my colleagues and I to split our working time between the home and office as we wished. There is flexibility with working hours too, enabling us to balance our work with childcare or other commitments. I don't need to seek approval to attend a school play or dentist appointment between 9 and 5. It's all about commitment, trust and communication.
Whilst homeworking and flexible working models are nothing new, a year ago it was still the exception rather than the norm with approximately 20% working from home. The pandemic has accelerated the pace at which these changes have taken place. But what will these figures look like in a year or two?
The lockdown has prompted many businesses to launch a review of their post pandemic working arrangements and how options may suit their businesses and workforce when restrictions are eased from June. Will everyone be back in the office between 9 and 5 this summer, or has this prompted a change in our work patterns forever?
Last week PwC was among the first employers to announce that their 22,000 employees could work more flexibly than ever. Employees will have flexibility over working hours and splitting time between the home and office is to be encouraged. The PwC chairman, Kevin Ellis said "we've long promoted flexible working, and we hope today's announcement will make it much more the norm rather than the exception. We want our people to feel trusted and empowered". BP and Nationwide, have also announced similar hybrid models in terms of splitting time between the home and office going forward. In a recent survey of 2,000 employers, the CIPD found that employers are now more likely to recognise that the shift to homeworking has boosted productivity.
Despite the benefits of homeworking many long to be back in the office. There is a desire to be immersed in the business environment, experience direct contact with mentors as well as the informal social side with colleagues. Direct engagement with others breathing in the office culture is often where innovation is realised. The Chancellor, Rishi Sunak, recently warned that some staff may quit if they are not allowed back to the office after lockdown, as some businesses are contemplating permanent workplace closures. "You can't beat the spontaneity, the team building, the culture that you create in a firm or an organisation from people actually spending physical time together", he said.
So what right do employees have to insist on flexibility?
A new statutory right to work flexibly came into force in 2014 and this is supported by an ACAS code of practice which can be found here. In essence, an employee can request to work flexibly, and the employer can only refuse for certain prescribed reasons to include the burden of additional costs, inability to organise work amongst staff, a negative impact on performance or detrimental effect on ability to meet customer demand. However, despite the name, the Flexible Working Regulations are ironically inflexible for a number of reasons. An employee only has the right to request flexible working after being employed for 26 weeks, they can only make one request each year and the employer does not need to respond for 3 months.
Looking forward, Sir Robert McAlpine has funded a report entitled 'Forever Flex: Making flexible working work beyond a crisis.' The report title speaks for itself. Research has been conducted with employers during lockdown and the findings provide examples of how flexible working can be effectively managed across all industrial sectors, leading to a happier and more productive workforce. The hope is that this will encourage government reform to be featured in the 2022 Employment Bill.
Numerous studies have shown that a flexible approach to hours, a choice over blended home/office working, flexitime, and other variations to the norm have increased access to work and resulted in improvements to physical and mental health. There are also recognised benefits for employers in terms of productivity, reduced costs and the fostering of employee loyalty.
It seems that one silver-lining from the pandemic will be the acceleration towards a hybrid, customised and ultimately improved way of working for many.
This blog is by Caroline Oliver, Senior Solicitor at Didlaw