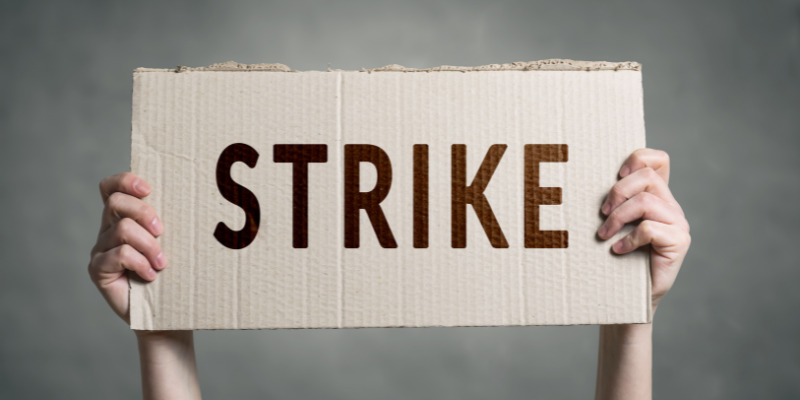 300 Striking Employees 
Amazon workers stage first ever UK strikes
Led by GMB union, 300 Amazon staff walked out of the company's warehouse in Coventry in a dispute over pay and working conditions.
The striking employees complained of pressure to maximise every minute of their day, and an invasive performance management system which forces them to account for "idle" time. One Amazon striking employee, Garfield Hilton, reported being frequently questioned by managers for taking toilet breaks.
The cost-of-living crisis has also squeezed Amazon employees, who were offered a 5% pay rise (equivalent to 50p outside of London and the Southeast) earlier this year, to £10.50 per hour. Employees have called the pay rise "derisory" and have asked for £15 per hour. They report having to work 60-hour weeks, and choosing between eating and heating their homes, just to get by. Meanwhile, Amazon's profits soared during the pandemic as restrictions forced people to shop online – yet it was employees putting their health at risk to attend work who ultimately drove that success.
The 300 striking employees represent about 20% of Amazon's 1,500-strong workforce at the Coventry site, but they are a much smaller fraction of Amazon's overall UK workforce, which numbers in the tens of thousands. This one strike is likely to register at best as a blip on Amazon's profit figures. The real risk for Amazon is that this is a harbinger of more to come. Amazon does not currently recognise any unions in the UK, but according to GMB it has members throughout the UK.
This strike is one of dozens making headlines in recent months. Employees' benefits have not kept pace with the cost of living, or soaring corporate profits, and many have finally had enough. As their rights and pay seem to be getting whittled away, employees have shown they will not be going quietly. Watch this space for more updates on strike action.
This blog was written by Kendal Youngblood, Solicitor at didlaw.