Karen Jackson
Managing Director & Solicitor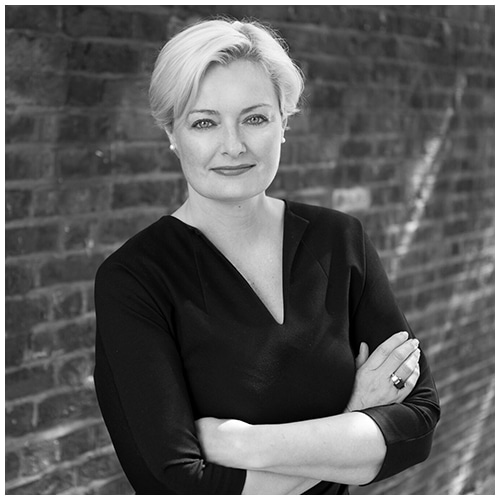 Karen Jackson is the Founder-Director of didlaw.
"A foremost expert on disability discrimination claims for senior employees" with "an encyclopedic knowledge and complete mastery of this area of employment law (Chambers And Partners 2019).
Karen graduated from University College London in 1989 with a First and worked in the City for Arthur Andersen, J P Morgan and finally at Union Bank of Switzerland as a futures broker. After 7 years on the trading floor she graduated law school with a Distinction and trained as a solicitor at Mishcon de Reya in London. Karen then became Head of Legal UK and Eire for the cosmetics giant L'Oreal, where most of her work focussed on employment.
Undergoing a successful heart transplantation in 2006, Karen has since been at the forefront of litigation and campaign work focused on protecting and furthering the rights of employees and is an ardent advocate for equality. Karen acted for the claimant in the Supreme Court case of Williams v Swansea, the first employment case on section 15 of the Equality Act 2010 at this level and has extensive experience of employment and discrimination litigation across all tribunals and courts.
A skilled negotiator, and accredited CEDR mediator Karen is passionate about early resolution for clients and has an impressive track record of obtaining quick and fantastic settlements for her clients.
Karen was appointed a "Champion" for the legal mental health charity LawCare and regularly acts for lawyers across all arms of the profession. She is a former trustee of the Mental Health Foundation and member of the Legal Action Working Group founded by Maternity Action.
Regularly asked to comment on employment and discrimination law issues in the national press and media, Karen appeared recently on the BBC's Victoria Derbyshire Show discussing the issue of bullying and harassment in the cosmetics industry.
A force of nature, Karen also manages to find time to make up the panel of leading employment lawyers who write the bulletins for Daniel Barnett's employment law bulletins, as well as write the odd legal text book. in 2013 she published Disability Discrimination: Law and Case Management. She also provides accredited training on employment and discrimination law and practice for other legal professionals, employers and health practitioners.
In her spare time she loves long walks with her dogs, cycling, pilates, yoga and opera, cocktails, baking and her husband's fantastic food.
The Times~ Best Law Firms 2021 in England and Wales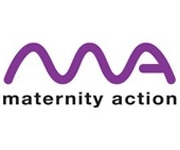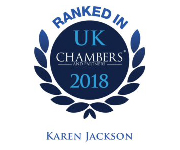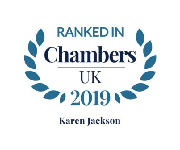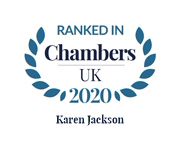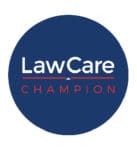 what our clients say
I have great trust in your firm. I went into this wondering whether it might cost an absolute fortune & was pleasantly surprised.
publications
Disability Discrimination: Law and Case Management, 1st Edition
Karen Jackson and Lydia BanerjeePublisher: The Law Society
First book dedicated to disability discrimination law since the Equality Act 2010 became law.
Contains a comprehensive overview of the law.
Accompanied by a case study showing how the law is applied in practice.
Contains an overview of the Employment Tribunal process and precedents.
The book also includes key guidance from the Equality and Human Rights Commission Statutory Code of Practice on Employment, the Office for Disability Issues Guidance on the Definition of disability and all the relevant extracts from the statutes around disability discrimination.
You can order your copy here.
Extract from amazon review: By P. C. Langman on 6 April 2014: "a very readable account of the law on disability discrimination and litigation case management. The practical experience of the authors in applying the law shines through … suitable for legal practitioners, students and lay readers alike. I would strongly recommend to anyone contemplating bringing a disability claim before a tribunal… This is still the best book I've read putting together the law with employment tribunal practice."
Discrimination Law and Occupational Health Practice
Edited by: Diana Kloss and John BallardPublisher: The At Work Partnership (November 2012)
Work aimed at Occupational Health practitioners giving a thorough grounding in discrimination law in the work context.
Other contributors to the book include Allen Tyrer, a former City lawyer whose website stammeringlaw.org.uk contains a wealth of information on disability discrimination law.
Chapter 3 Legal protections for those with a disability is written by Karen Jackson of didlaw
Discrimination laws are complex to the non-expert. This book aims to simplify the key areas so that OH professionals can do their job with an awareness of the issues.
You can order your copy here.
Health and Safety at Work magazine gave the book 4/4 for content and calls it "an absolute mine of information, with clear summaries of the law and of cases showing how it has been applied… the practical implications for OH specialists and indeed managers are set out very well".
specialist employment discrimination lawyers
If you are seeking legal guidance regarding employment discrimination issues, get in touch with us today to book a free telephone assessment with our experts.