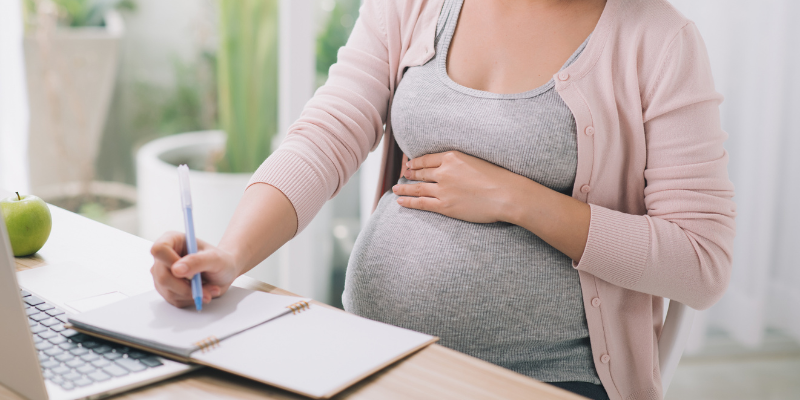 pregnancy and covid in the workplace
pregnancy and covid in the workplace
Just as we thought we were adapting to manage our lives with Covid-19 as a feature, along comes another spanner in the works. The emergence of the Omicron variant since the end of November has thrown everything up in the air again and businesses, schools and individuals are having to review the appropriate measures to take once again.
Whilst everyone is impacted by the pandemic, pregnant women have additional challenges and health concerns to navigate.
A recent report by the charity Maternity Action provides concerning reading. They found that a third of pregnant women in the workplace were deterred from raising health and safety concerns or requesting support for fears of job security. Two thirds of those polled in the 18 months since the pandemic outbreak indicated that they were 'fairly' or 'very' worried about pregnancy and covid. The research also showed that 59% highlighted that they had raised health and safety concerns directly with their employer but almost one in five indicated that no action was taken to address their concerns. One in five even took time off work or resigned due to concerns about catching Covid-19 at work.
The findings are unsurprising. Pregnancy is a worrying time at the best of times and the on-going uncertainties about the impact of the virus on pregnant women and their unborn child as well as pregnancy and the covid vaccine only enhances such anxieties. Currently evidence indicates that pregnant women are not at greater risk of getting Covid-19 but that they are at increased risk of becoming severely unwell if they do get the disease and are more likely to suffer from pregnancy complications.
Maternity Action is urging ministers to address these issues with legislation customised to the new concerns thrown up by the pandemic. Ros Bragg, Director, commented that "the system that is supposed to protect [pregnant women] is not fit for purpose. There is a vast gap between what the law says and actual employer practice, leaving women under huge pressure to work in unsafe conditions."
Employers have an overarching duty to consider the health and safety of their employees in general – and pregnant women in particular. They should ensure that they have a Covid-19 secure workplace, mindful of current advice, restrictions, and employee concerns. Upon the announcement of a pregnancy, a risk assessment should be conducted and, ideally, the occupational health team engaged. If appropriate measures cannot be put in place to reduce pregnancy and covid risks, an employer is obliged to suspend the pregnant worker on paid leave.
Current government advice for pregnant workers can be found here.
This blog is by Caroline Oliver, Senior Solicitor, didlaw.